Phoenix Golf Lessons: Meet the Hilton Golf Instructors
The Phoenix Lookout Mountain Golf Club has top tier instructors that are ready to get your game on par with the pros.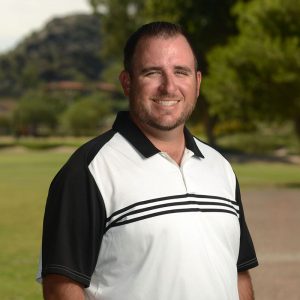 Michael Hopper, PGA I Assistant Golf Professional
Born Denver, Colorado
2008 Graduate of Arizona State Professional Golf Management Program
2008 Elected to PGA Membership
10 Years Teaching Experience
Instructor For Hilton Golf Academy for five years.
5-time winner of the Southwest PGA Championship Match Play titles (2011, 2016, 2017, 2019, 2021)
Southwest Section PGA Player of the Year (2012, 2014-2016 & 2019)
National Assistant Pro Championship Participant (2012, 2014-2019)
PGA Professional National Championship participant (2012, 2013, 2015-2020)
2015 & 2019 PGA Tour Waste Management Phoenix Open participant
2019 PGA Tour Shriners Children's Hospital Open participant
Adult Lesson: $50 for 30 minutes; $80 for 60 minutes
Junior Lesson (15yr & under): $35 for 30 minutes/ $60 for 60 minutes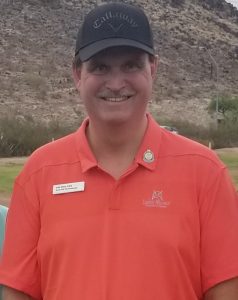 Jeff Allen, PGA Assistant Golf Professional
Originally from Chicago, Illinois - Graduate of St. Norbert College (1984)
Class "A" PGA Professional since 2005
Received PGA Certified Professional in Teaching and Coaching in 2010
20+ years of Teaching Experience
Instructor at Lookout Mountain Golf Club/Hilton Golf Academy since 2017
Teaching philosophy:  Every player is a "work-in-progress" and can always improve with proper instruction and work.
Adult Lesson: $50 for 30 minutes; $80 for 60 minutes
Adults Series: 5- 60 minute lessons for $250
Junior Lesson: $35 for 30 minutes; $60 for 60 minutes
Junior Series: 5- 60 minute lessons for $175
Playing Lessons are available at hourly rates
Lessons available with morning and afternoon times on request
Family & Friends hour long golf lesson package for 2 or more players for only $100 (more info below)
---
Learn from the best
Whether you are staying with us as a guest at Tapatio Cliffs Resort or are an Arizona local brushing up your game at one of the best courses in the valley, our Phoenix golf instructors have a package perfect for you (Adult & Junior individual lesson rates listed above).
Great Deal - The Family & Friends Package
Looking for a fun, relaxed way to improve your golf game at an incredible value? Grab your family or closest friend(s) and sign up for an hour long lesson! The hourly rate is only $100 for two or more players and includes clubs if needed and balls. Lesson reservations may be booked 7-days a week, morning or afternoon, based on availability. Please directly call or email Jeff Allen, PGA Assistant Golf Professional, for more details or to reserve a time: 920-242-2356
The CEO
The CEO package features a private class where you receive the utmost personalized attention and instruction. Please call for pricing and more details: 602-866-6356
The Daily
Enjoy brief group lessons followed by a full 18 holes of golf with your instructor in the afternoon. The Daily requires a minimum sign up of two students. Please call for pricing and more details: 602-866-6356