Preserve Your Well-Being

Pointe Hilton Tapatio Cliffs Resort
Workout Centre at Tocaloma Fitness and Wellness
Stay fit during your stay with our state-of-the art workout facility. With a wide range of cardio, free-weight, and flexibility equipment—You can count on maintaining your well-being during your stay. For those looking to explore, we also offer rejuvenating Yoga Stretch classes and Guided Hikes.
Join us for Sunday morning Yoga from 7 am - 8 am.  See details here.
The Workout Centre is just a quick shuttle ride away.
Enjoy Life Fitness & Precor® exercise equipment featuring personal TV screens and headphones:
3 Ellipticals
4 Treadmills
1 Cycle
2 Recumbant Cycles
1 Stretch Unit
1 Cross Functional Trainer
1 Ab Machine
In addition to a range of cardio machines, we also offer:
Incline, decline and adjustable benches
Free weights 5-50 lb. Sets
Bosu and Stability Balls
Water and towel service
Pool and Dry Sauna
Stay Fit Packages
Moving the body is an energizing and empowering way to achieve total wellness. Pointe Hilton Tapatio Cliffs Resort is proud to offer a health focused solution for group events looking to seamlessly add an instructor-led exercise element. For groups of 10 or more people, depending on your event schedule, fitness activities can be arranged in advance and added to your meeting's agenda - customized to your interest, length and level of intensity.
Fresh Start Fitness
Fitness Finale
Poolside Yoga and Guided Hikes
Challenge & balance your body and mind with a Yoga Stretch Class or explore & learn about the surrounding desert landscape with an easy to moderate Guided Hike. Please call (602) 375-4645 or ext. 7085 to reserve your spot or to receive more details.
All skill levels are welcome for yoga at the family pool.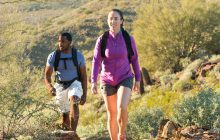 Tennis Courts
Awaken your sense of competition with our two, on-site tennis courts. Complimentary rackets and tennis balls are available every day to resort guests. If you have a preferred time to rally with a partner, please contact our Golf Pro Shop to make a reservation.